Moora and Koojan JV Projects

(Gold-PGE-Ni-Cu)
---
The Moora and Koojan Projects cover a largely contiguous land position of approximately 1,100km2 which comprises the second largest exploration holding in the emerging Julimar Mineral Province (JMP) of southwest Western Australia (Figure 1). The JMP has become one of Australia's most active exploration areas following Chalice Mines' discovery of high-grade Ni-Cu-PGE mineralisation at Julimar ~95km to the south.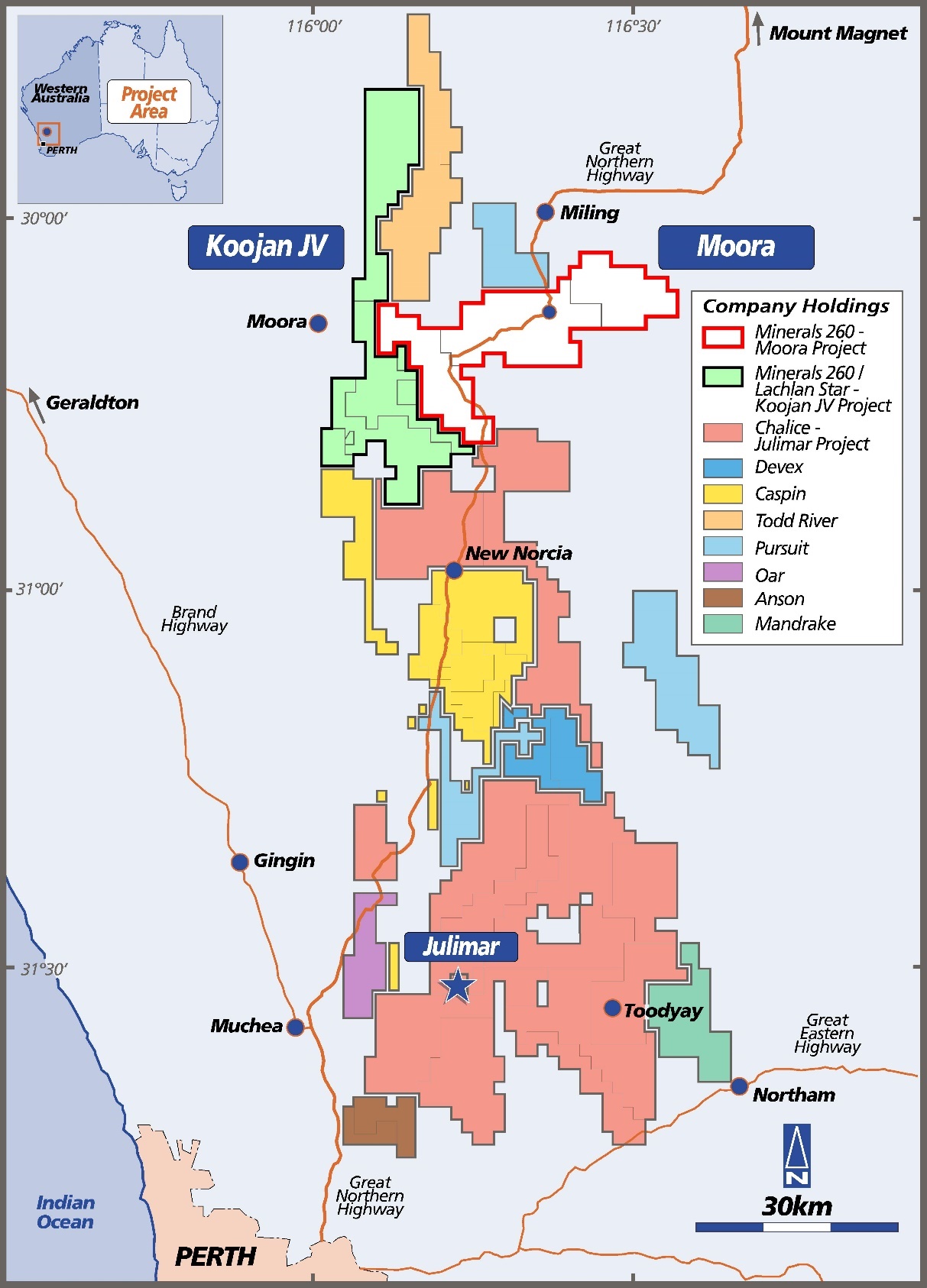 The initial land position was acquired following regional studies which identified the western margin of the Archaean Yilgarn Craton as being prospective for gold-PGE-copper-nickel mineralisation, a hypothesis subsequently supported by exploration results at Moora and Chalice's discovery at Julimar.
The Moora tenements are wholly owned by Minerals 260 and were acquired in 2018 and 2019 prior to Chalice's Julimar discovery. In January 2021, Minerals 260 wholly owned subsidiary ERL (Aust) Pty Ltd entered into an agreement with Lachlan Star Limited which gives the Company the right to acquire 51% equity in the Koojan Project located adjacent to the western boundary of the Moora Project.
Geochemical sampling across the Moora tenure in 2020 and the Koojan tenure in 2021 defined multiple gold+PGE+copper+nickel anomalies typically coincident with magnetic highs interpreted to indicate mafic-ultramafic lithologies (Figures 2 and 3) obscured by younger cover or deep weathering.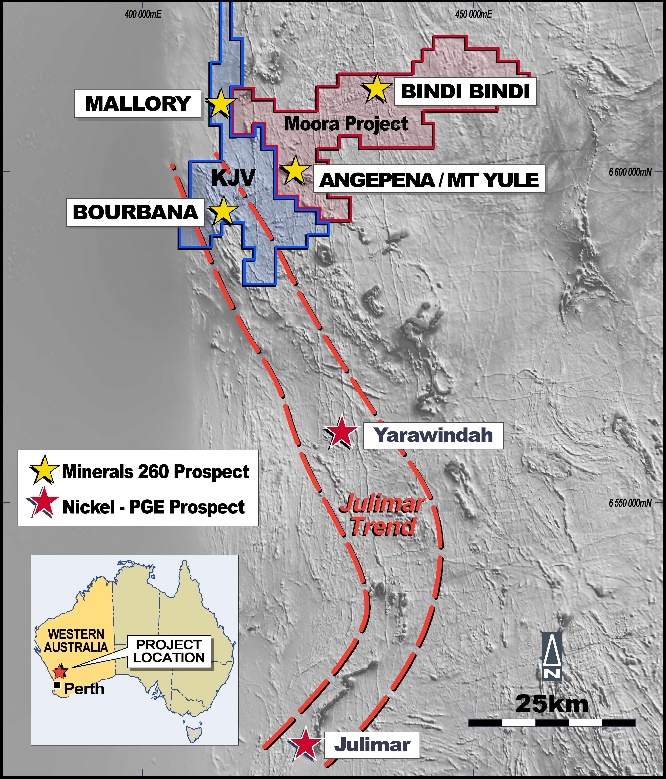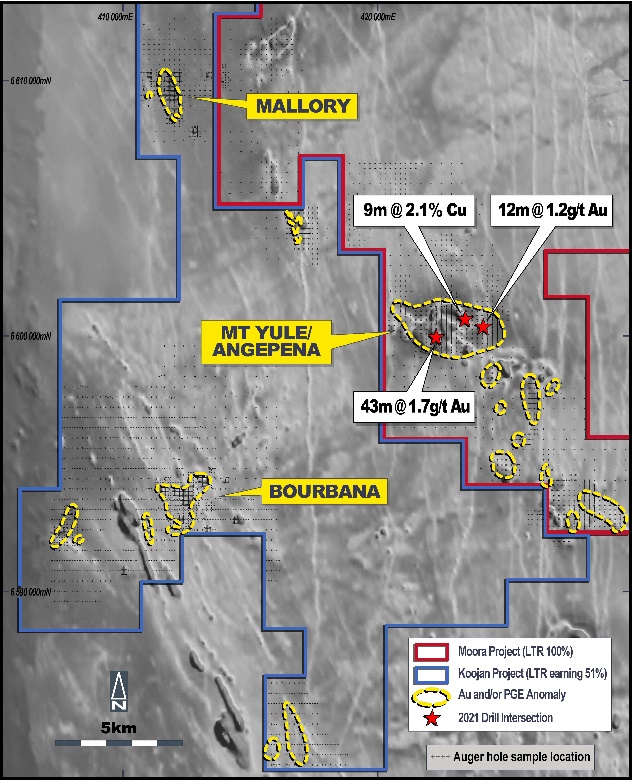 Drill follow up, which has been limited to the Mt Yule magnetic anomaly (Figure 4) on the Moora tenure, has defined three zones of mineralisation including the:
Angepena Zone: a +900 m long gold zone (Figure 5) with intersections including:

43 m at 1.8 g/t gold from 198 m downhole

11 m at 1.5 g/t from 2 m downhole.

Northern Zone: a +2 km long, up to 150 m wide copper and gold zone with intersections including:

9 m at 2.1% copper from 33 m downhole

4 m at 1.2 g/t gold from 27 m downhole and 2 m at 3.6 g/t gold from 34 m downhole

7 m at 1.1 g/t gold from 41 m downhole.

Southeastern Zone (SEZ) defined by a single drill traverse including:

17 m at 0.4 g/t gold from 1 m downhole and 12 m at 0.2% copper from 25 m downhole.
There is insufficient geological data at this stage to estimate the true width of the drill intersections; however, the mineralised trends remain open along strike and at depth.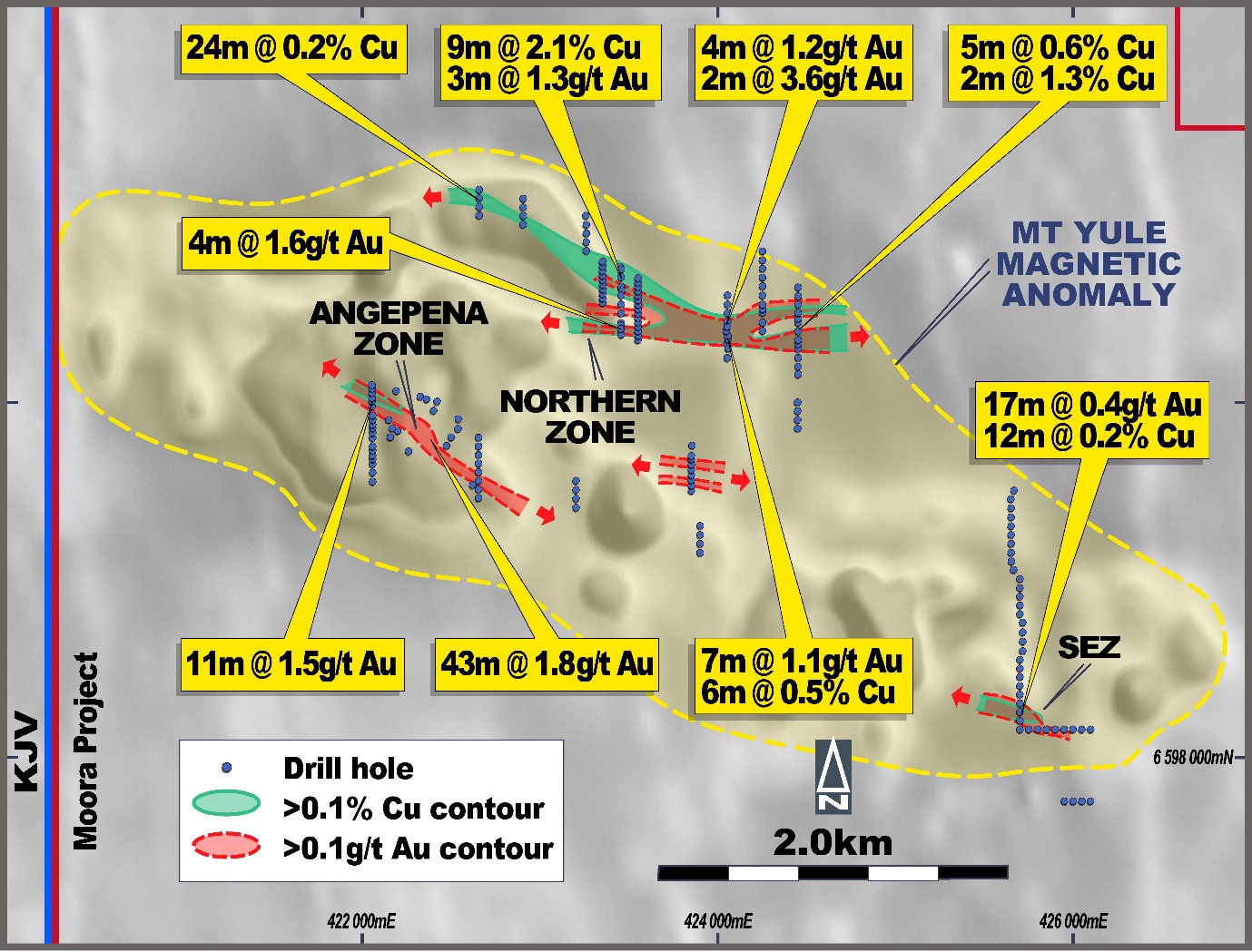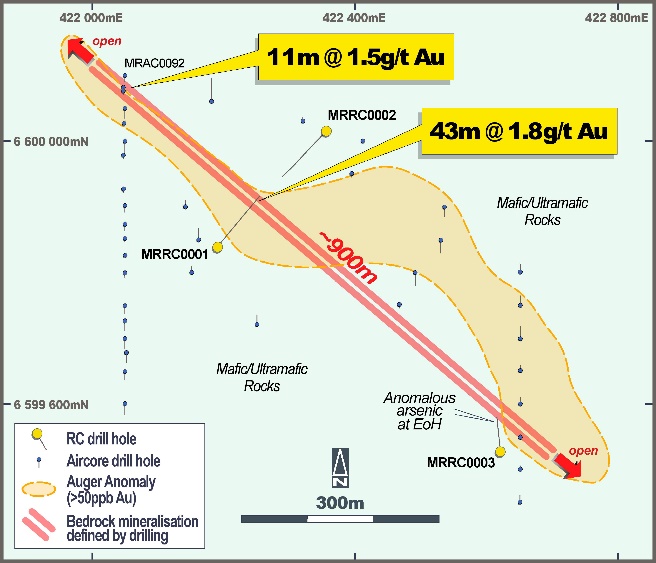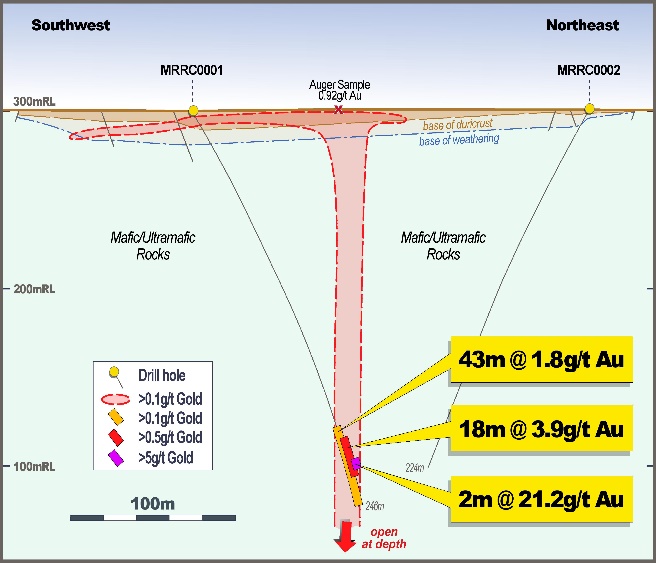 Multiple geochemical anomalies remain to be tested by drilling including several targets defined on the Koojan JV Project (Figure 3).Figure 4: Mt Yule Magnetic anomaly showing better drill intersections
Next Steps
The following work is planned for the 2021/2022 field season at the Moora and Koojan JV Projects.
RC and diamond core drill follow up of Mt Yule drill intersections;
Detailed geophysical surveys across other geochemical targets to optimise initial drill testing;
Further first pass and infill geochemical sampling; and
Drill follow up of targets defined by geophysical and geochemical programs.
Related Documents